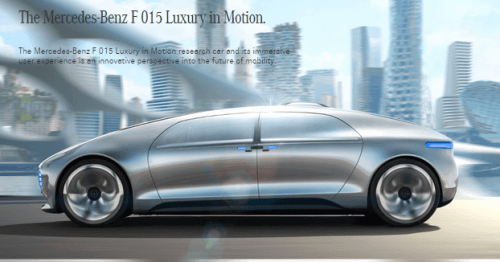 "Its Vision for the Car of the Future 'F015 Luxury in Motion"
This Revolutionary Self-Driving Electric Vehicle is the Ultimate example of Design & Technology combined to improve Lifestyle & Safety in a moving environment.
This is an impressive evolution of a vehicle into a Mobile Living Space.
It has a unique progressive appeal with sleek fluid lines inside & out.

The interior features Rotating Seats for a face to face lounging experience and an
innovative interior concept with Surrounding Monitors which create an interactive Digital Living Space & the Seamless Integration of the Virtual & Real World.
Welcome to the Future…..
www.mercedes-benz.com/en/mercedes-benz/innovation/research-vehicle-f-015-luxury-in-motion